Support Music Box Village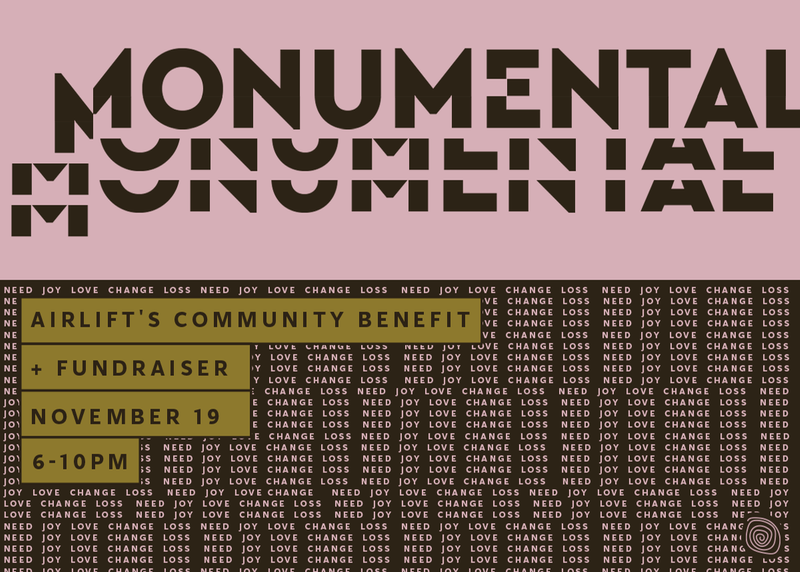 MONUMENTAL: Airlift's Community Benefit & Fundraiser
After debating in the wake of Ida about whether to do a fundraiser at all, but also enduring many of the same challenges that Covid has wrought on many in the last 18 months, New Orleans Airlift has decided to present its annual fundraiser with a twist. It is a time of monumental need and monumental change. We are all called to provide monumental love and support through multiple mutual aid and hands-on restoration projects. In the spirit of this moment of deep interconnectedness, please join us November 19 for a night of tribute to folks working for a better world, and supporting Airlift and Music Box Village as well.
Airlift's work is noteworthy for our commitment to collaboration and resource-sharing. With this event, we are extending this notion to our patronage circles by sharing 50% of the night's proceeds with two organizations we believe in deeply: Backstreet Cultural Museum and Another Gulf is Possible. We are also inviting leaders from over a dozen other organizations who are doing important work across diverse sectors in our region to join us as special guests at the event. To encourage community collaboration and rethink how the non-profit sector shares resources, we want to introduce and engage people we believe in to our patrons, donors, staff and board.
Highlights of the night include an address from activist and special guest Gary Chambers, a unique performance by Spirit McIntyre, first-time collaboration by Pell and Ha Sizzle, Preservation Hall with 79'rs Gang, Congolese master drummer Papa Titos Sompa, the debut of a new work by Nic Brierre Aziz, "Have a Great Day" guy Joshua Starkman, and a dance party DJ'd by 8th Ward native Qbaby (fka DJ Q).
Tickets include open bar, passed apps and food stations provided by Columns, Two Brothers One Love, Cafe Reconcile and ReBorne Bakery.
Ticket donation levels reflect our ongoing approach to making events more broadly accessible. Multiple pay-what-you-can options will provide the possibility for inviting special guests at no cost and providing a reasonably priced ticket option. We trust our community to pay what they can whether that means choosing an affordable ticket or paying more to help subsidize the entry of others. Everyone gets the same experience because everyone's a VIP to us!
Tickets starting at $75 - $400 (Pay It Forward).
This event is generously sponsored by Rachel Bailey, Goldring Family Foundation, Columns, Reborne Bakery and True Value Rentals.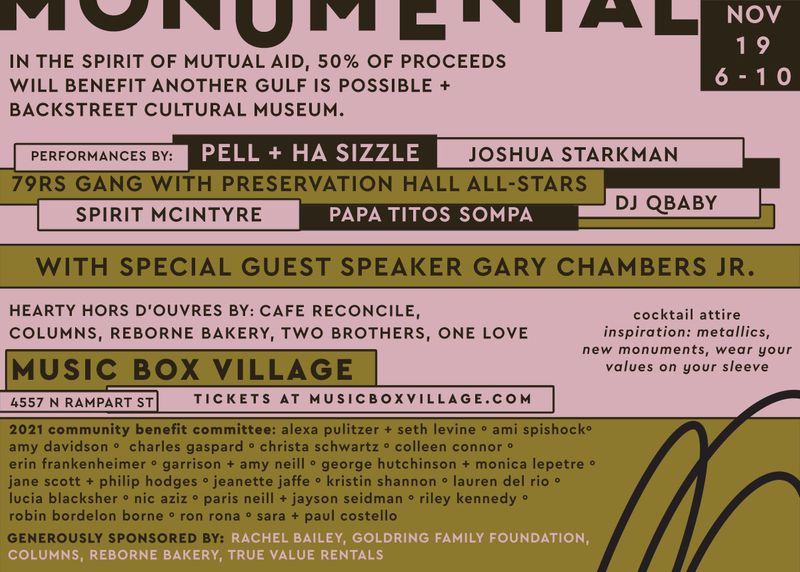 Individual Giving
Support New Orleans Airlift, an artist-driven 501c3 non-profit organization, and its flagship project the Music Box Village in any amount, year-round. Your gift directly supports our ongoing mission to collaborate to inspire wonder, connect communities, and foster opportunities through arts education and the creation of experimental public artwork and performances.
Support One-of-a-Kind Airlift Programming
Every event we curate, whether onsite at the Music Box Village or offsite in the community, draws diverse audiences for experiences like no other. Sponsor a program and connect with our supportive and enthusiastic community. Sponsorship levels vary.
Contact Jay Pennington Jay@neworleansairlift.org for more information about sponsoring an event at the Music Box.
Images from Airlift's "Upstairs at the Wax Museum" created for Microsoft's 1MSQFT initiative and the MOTHER agency.

Images from Airlift's "Upstairs at the Wax Museum" created for Microsoft's 1MSQFT initiative and the MOTHER agency.

Images from Airlift's "Upstairs at the Wax Museum" created for Microsoft's 1MSQFT initiative and the MOTHER agency.
New Orleans Airlift curates spectacular, experiential events for corporate partners in and outside of the Music Box Village. Our ongoing work with experimental artists and radical culture bearers aims to build collaborative "bridges" within New Orleans and across the world.
The Music Box Village is a place of wonder for our guests and we can share this same energy with your corporate events and branded activations. Programming in the Village accounts for over 12,000 visitors a year, and partnership or sponsorship through your organization can help to connect our loyal patrons to your mission.
MAJOR CONTRIBUTORS
THOMAS COLEMAN
SUSAN BRENNAN
PAIGE ROYER & KERRY CLAYTON
BLUE SKY FUND
MATT & CHRISTA SCHWARTZ
BRYAN BAILEY
ANN BURR
MAC & ELLEN BALL
NELS CLINE
RANDY FERTEL
ALAN FRANCO
TINA FREEMAN
TG HARRINGTON
CHRIS PAPAMICHAEL
WILL SIBBALD
MIKE & AIMEE SIEGEL
DAVID WORKMAN
CHRISTA & WAYNE PAYNE
STACY HOOVER
LIZ SLOSS
DEBORAH VALENTINE
SUPPORTING FOUNDATIONS
NATIONAL ENDOWMENT FOR THE ARTS
SMITHSONIAN ASIAN PACIFIC AMERICAN CENTER
THE EDUCATION FOUNDATION OF AMERICA
THE UNITED STATES EMBASSY/UKRAINE
NEW MUSIC USA
MAP FUND
ARTS COUNCIL OF NEW ORLEANS
NEW ORLEANS JAZZ & HERITAGE FOUNDATION
LOUISIANA DIVISION OF THE ARTS
THE EUGENIE JONES FOUNDATION
SELLEY FOUNDATION
RUTH FERTEL FOUNDATION
ROSA MARY FOUNDATION
AZBY FOUNDATION
ELLA WEST FOUNDATION
BLACK ROCK ARTS FOUNDATION
BURNING MAN GLOBAL ARTS
GOLDRING FAMILY FOUNDATION
EMERGING PHILANTHROPISTS OF NEW ORLEANS
SHREVEPORT ARTS COUNCIL
GEORGIA INSTITUTE OF TECHNOLOGY
UNIVERSITY OF SOUTH FLORIDA
MASS MOCA
SHARJAH ART FOUNDATION
SUPPORTING SPONSORS
GOOGLE
MICROSOFT
REDBULL
GOOD MAGAZINE
KICKSTARTER / THE CREATIVE INDEPENDENT
GUAYAKI
SENTRĒ SOUND
PALMISANO GROUP
FELICITY PROPERTY CO.
DOMAIN COMPANIES
WOODWARD DESIGN + BUILD
WOODS MATERIALS
BERNHARD MECHANICAL CONTRACTORS
THE GREEN PROJECT
ACE HOTEL
PETER AND PAUL HOTEL
TRUE SOUTH NOLA
BAYOU TECHE
HAVANA OUTPOST / SEAN MEENAN
MUSEUM OF OLD AND NEW ART
TOURISTS
H & E RENTALS
WWOZ NEW ORLEANS 90.7FM
WWNO 89.9 FM