We are open for tours and private events!
Give your Quaranteam the gift of PLAY while supporting New Orleans Airlift, the arts non-profit that founded and operates Music Box Village. Our interactive sonic sculpture garden inspires connecting, collaborating, and fun. Whether you'd like a private tour, casual pizza party, mask making craft hour, or guided musical experience for your young ones, our venue is now open and perfect for Family + Friend parties! Book now, and soon you will be enjoying our safe, outdoor venue with your krewe!
*Ideal Party Size: 10-35*
Email syd@neworleansairlift.org to inquire about pricing, availability, and covid Safety Measures*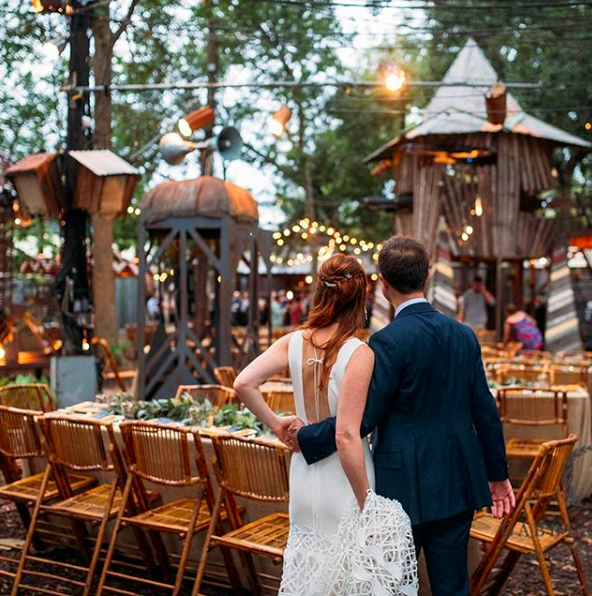 Our unique 13,000 sq ft outdoor art site and bar is also available for private dinners and celebrations, weddings, corporate events! We provide a range of package options to help you put on an unforgettable occasion in the Village. Contact our private event coordinator, Syd Kleinberg to discuss your vision syd@neworleansairlift.org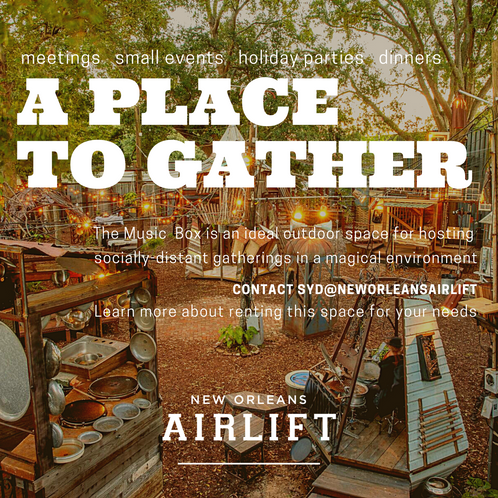 A resource for local businesses
Contact us to discuss renting our outdoor space to hold reduced-risk meetings, dinners, small events, holiday parties, etc. The Village provides ample space for social distancing.
Accommodations
We will work with you to create the event of your dreams, whether large or small. Our venue can accommodate up to 200 seated guests, or many more, for cocktails, ceremony, and/or reception.
Our Offers
We offer customized bar packages, and connections to our collaborating photographers, DJs, caterers, sound and lighting professionals, musicians, and production designers to develop your ideas and plans.
Packages & Contract
Booking is open and ongoing – click on Book your Event above, and we will be in touch!
Video from a special dinner hosted in coordination with Clandestine Events.