What is The Music Box Village?
The Music Box Village is a place where play, imagination, experimentation, collaboration, community and hard work come together as a whimsical village of artist-made interactive "musical houses." Each installation is inspired by the unique musical and architectural culture of our home city of New Orleans, and represents a collaborative process between artists based here and abroad. Our one-of-a-kind art site hosts intensive artist residencies, performances, panels, and welcomes visitors for exploration and play.
Music Box Village is the flagship project of New Orleans Airlift, an artist-driven non-profit organization whose mission is to collaborate to inspire wonder, connect communities, and foster opportunities through arts education and the creation of experimental public artworks. Our work in the Music Box Village pushes artistic boundaries, but more importantly it brings together people of all stripes for heartwarming, creative experiences that have equal appeal for a musical giant such as Norah Jones, an experimental legend like Thurston Moore (Sonic Youth) or a gaggle of 5-year-olds!
Our Story
In 2010, five years after Hurricane Katrina and its aftermath devastated the city of New Orleans, a collapsing Creole cottage on Piety Street in the Bywater, owned by New Orleans Airlift co-founder Jay Pennington (aka Rusty Lazer), became the catalyst for a grand experiment in "musical architecture." Pennington imagined the space could be transformed into a headquarters for Airlift as well as a performance venue. He placed the project into the hands of artist and Airlift co-founder Delaney Martin, sound artist Taylor Lee Shepherd, and visiting installation artist Swoon. Collectively everyone was inspired by the materiality and history of the Creole cottage, the everyday presence of music in New Orleans, and the city's under-celebrated class of tinkerers, inventors and avant-garde musicians. Together they envisioned that structure they were building would not simply be a stage for musicians to play their instruments upon, but that the structure itself would be the instrument. Plans emerged for an entirely new structure that artists could climb on and interact with - an aesthetically unlikely "house" that would have instruments and sound built in to it.
Many months later a collective vision emerged and the civic nature of the project was born through the work of 25 artists. The Music Box: A Shantytown Sound Laboratory opened in 2011 as a prototyping experiment in "musical architecture." Over the course of nine months, 15,000 visitors came to interact with invented instruments that were embedded in the ceilings, walls and floors of multiple structures, and 70+ musicians from New Orleans and beyond performed orchestral concerts on the installation to sold-out audiences.
Since that time, the project has grown mightily through the hard work and idiosyncratic vision of hundreds more collaborators, in a series of national and international locations. After closing the original Music Box, opportunities to create outposts of this New Orleans-inspired project took Airlift as far as Kiev, Ukraine and as close to home as Shreveport, Louisiana. In 2015, The Music Box Roving Village appeared in the wilds of New Orleans' City Park. The public once again fell in love with the project, with over 10,000 people visiting over the course of six weekends. In addition to public hours, thousands of children attended field trips, and the performances brought another slew of incredible musicians - Free Jazz master William Parker, Solange Knowles, Wilco, Preservation Hall Jazz Band and Arto Lindsay to name a few.
In 2016, the Music Box finally found a permanent home thanks to the generous support of our patrons and donors. The Music Box Village sits underneath the boughs of a magical one-acre forest in the Upper 9th Ward next to a canal leading to the Mississippi River. The sounds of this musical village are accompanied by deep-throated ship horns, trains, and the honks and whistles of drawbridges going up and down. Adjoining the installation is a 13,000 sq ft former metal fabrication shop which facilitates the work of maintaining and growing the installation, and houses Airlift's headquarters. It is literally the perfect place for the Music Box Village to have landed.
Our permanent home has allowed us to continue this ongoing experiment in "musical architecture," bringing more collaborators and audiences to it every year.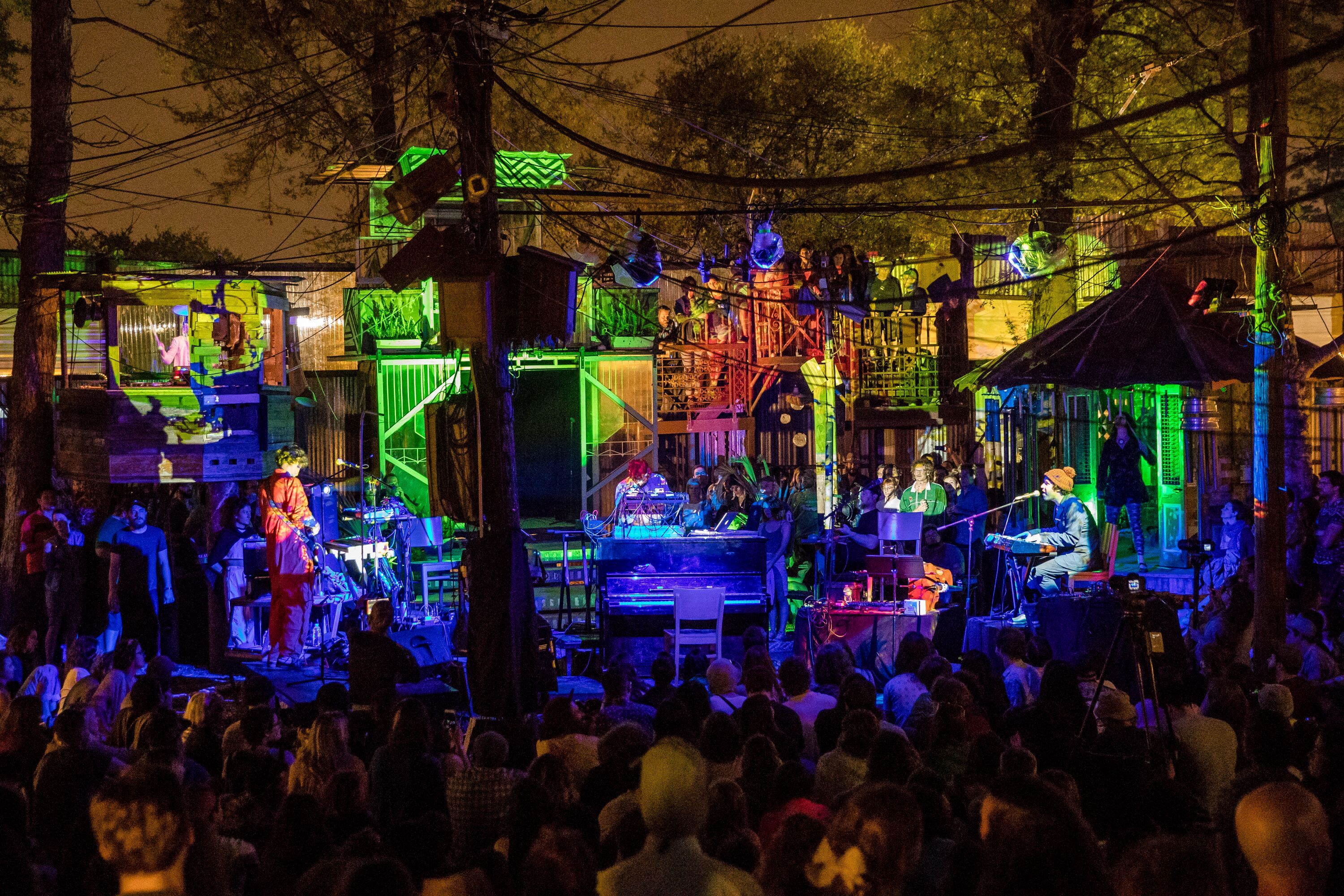 The Music Box Village has hosted hundreds of musicians since opening in 2016 including Animal Collective (pictured), Wilco, Peaches, The Sun Ra Arkestra, Norah Jones, The Residents, Tony Allen (Fela Kuti), Bonnie Prince Billy, Tank and the Bangas, Ghost-Note, Mac Demarco, Nick Zinner (Yeah Yeah Yeahs), Gogol Bordello, Boukman Eksperyans and more.
Who we are:
New Orleans Airlift is the leading creator and exhibitor of out-in-the-streets public art in New Orleans. We have been creating connections, performances and opportunities with our large-scale spectacles since 2007. New Orleans Airlift exists to build collaborative "bridges" within New Orleans and across the world. We believe New Orleans has a unique and universal point of view, steeped in tradition and improvisation, and that it shines most when engaged with a variety of local, national and global voices. We work with our dynamic street culture, folk masters, and a growing contemporary arts scene to create exhibitions, workshops, festivals, and performances in our city and beyond.
New Orleans is the last great bastion of living folk culture in the United States. Our projects honor these traditions alongside innovation, leading our artists, culture and communities in meaningful new directions. Find out more at NewOrleansAirlift.org.