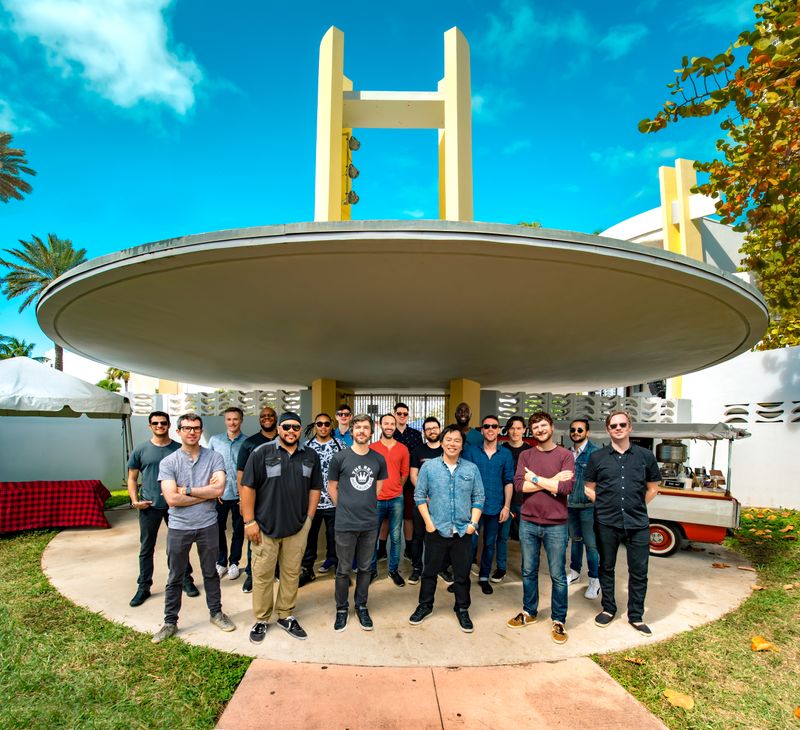 Snarky Puppy on Tour in the Music Box Village
August 1, 2019 12am - September 28, 2019 11:30pm
A special visit to the Music Box Village by the Brooklyn-based megaband Snarky Puppy!
Snarky Puppy, who has received multiple Grammy awards for Best R&B Performance in 2014, and Best Contemporary Instrumental Album in 2016 and 2017, is a collective with as many as 25 members in regular rotation. They each maintain busy schedules as sidemen with such artists as Erykah Badu, Snoop Dogg, Kendrick Lamar, and D'Angelo.
At its core, the band represents the convergence of American music culture with various accents from around the world. Japan, Argentina, Canada, the United Kingdom, and Puerto Rico all have representation in the group's membership. But more than the cultural diversity of the individual players, the defining characteristic of Snarky Puppy's music is the joy of performing together in the perpetual push to grow creatively. The Music Box Village is hosting a tour-stop for the band.
From the band's website:
"Snarky Puppy isn't exactly a jazz band. It's not a fusion band, and it's definitely not a jam band. It's probably best to take Nate Chinen of the New York Times' advice, as stated in an online discussion about the group, to 'take them for what they are, rather than judge them for what they're not.'"
Immigrance, the new Snarky Puppy studio album, is all about movement. "The idea here is that everything is fluid, that everything is always moving and that we're all in a constant state of immigration," explains Michael League. "Obviously the album's title is not without political undertones."
Like Culcha Vulcha, Immigrance is a studio project, and it features most of the same musicians. And though it shares that project's ace musicianship and dynamic, kinetic spirit, it is also more raw and moodier than its predecessor. Several of the compositions put a newfound emphasis on delivering simpler, streamlined impact. With Immigrance, Snarky Puppy is essentially practicing what it's preached all along: That people from different places can bring their various strengths and experiences, and that can be beautiful and cohesive. The band itself is a representation of that musical expression.
ABOUT NEW ORLEANS AIRLIFT & THE MUSIC BOX VILLAGE
New Orleans Airlift is an artist-driven organization established in 2009, whose mission is to collaborate to inspire wonder, connect communities, and foster opportunities through the creation of experimental public artworks. Its flagship project, the Music Box Village, is a permanent installation of "musical architecture" that serves as a one-of-a-kind site for collaboration between New Orleans artists and artists across the world. More than a venue, the Music Box Village is an engine of possibilities, and a mechanism for growth as performers stretch their capabilities through creative residency.
SNARKY PUPPY On Tour In The Music Box Village
Event Date: Saturday, September 28th, 2019 - One Show Only
Doors: 7:00pm
Event Hours: 7:00PM-10:00PM
General Admission $37 / VIP $70
Advance Tickets and More Info: musicboxvillage.com