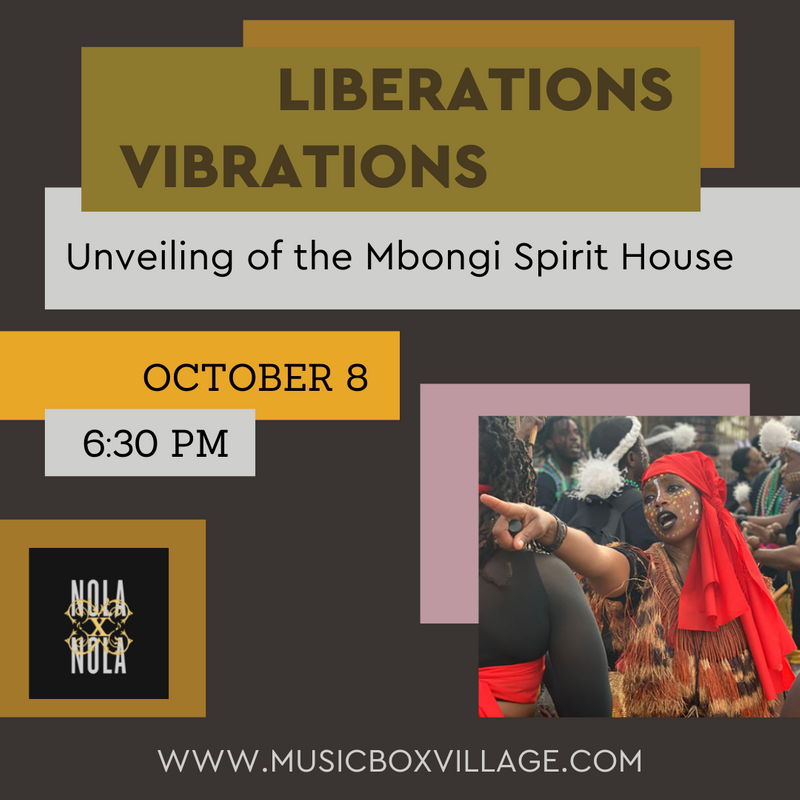 Liberations Vibrations
This fall New Orleans Airlift, in partnership with the Amistad Research Center and Third Eye Theatre Interdisciplinary and Improvisational Performance Company, presents Liberation Vibrations, the creative output of two years of collaborative research and artistic production.
When a project set for the Democratic Republic of Congo was derailed by the pandemic, co-creators, Dr. Kara T. Olidge, Delaney Martin, Monique Moss and Jay Pennignton instead dug into the terra not-so-firma of New Orleans and made a startling discovery.
The land occupied by Airlift's flagship project, Music Box Village, was once the home and plantation of the infamous enslaver Manuel Andry. It was on Andry's German Coast plantation that the enslaved Charles Deslonde led the 1811 Slave Revolt. Maimed by an axe in that initial batlle, Andry played a savage role in the Revolt's suppression. Almost immediately after the Revolt, Andry sent General C. C. Claiborne his letter of resignation as Commandant of the German Coast. Andry then moved his family downriver to a plantation in New Orleans that encompassed the current location of Music Box Village. There, Andry lived both as an enslaver and a capitalist in the trafficking of enslaved Africans until his death.
Grappling with this land ancestry through the generational and structural frameworks of racism and culture collisions that it exemplifies, is the seed that germinates at the very core of Liberation Vibrations: a multi-pronged work that coalesces and memorializes this history, but equally seeks to begin a collective, community healing process. The project creators rooted their collaboration in the traditional Congolese practice of democratic engagement called Mbongi Circle to create panels, a performance, and the Mbongi Spirit House, a new work of musical architecture. The collective work employs, preserves and extends cultural practices from the Houma Nation, Kingdom of Kongo, and African-American peoples, who are all connected to Bulbancha, the Place of Many Tongues.
Additional artists include elders Papa Titos Sompa (Master Dancer and Kalimba player; Congo Brazzaville), Janie Verret Luster (Master Weaver; Houma Nation), and Ivy Billiot (Master Carpenter; Houma Nation). They are joined in creation by Black, New Orleans native and based, multi-disciplinary artists Rontherin Ratliff and J RENEE, as well as a cast of over a dozen beloved local dancers and musicians.
Through this project, the wider public is invited to experience and explore how history vibrates into the present on land that was once home to the Andry plantation, now Music Box Village, in the place originally known as Bulbancha.
--
PANELS
Conversations in Color, curated by the Amistad Research Center
September 14, 21, 28 @6pm
The George and Joyce Wein Jazz & Heritage Center
1225 N. Rampart St.
FREE
The Amistad Research Center's Conversations in Color is a free public cultural series that features artists, educators, and community activists in talks about their work and its impact on social change. The Center will curate three talks by leading artists, curators, and scholars that examine historical narratives and their role and influence on our society today.
September 14: Leon Waters and Dr. Rosanne Adderley, Charles Deslondes and Manuel Andry: The Legacy of Freedom and Oppression as they leave the German Coast for New Orleans
September 21: Freddi Williams Evans and Dr. Joyce Jackson, Congo Square Connection: Cross-cultural Research and Educational Outreach
September 28: Katrina Andry and Dr. Mora Beauchamp-Byrd, Healing through African American Art and Material Culture as Praxis
Funding for 2021 Rebirth grants has been administered by the Louisiana Endowment for the Humanities (LEH) and provided by the National Endowment for the Humanities (NEH) as part of the American Rescue Plan (ARP) and the NEH Sustaining the Humanities through the American Rescue Plan (SHARP) initiative. The views, findings, conclusions, or recommendations expressed in this (publication) (program) (exhibition) (website) do not necessarily represent those of either the Louisiana Endowment for the Humanities or the National Endowment for the Humanities.
--
PERFORMANCE & THE MBONGI SPIRIT HOUSE UNVEILING
LIBERATION VIBRATIONS: UNEARTHING HISTORY AND HEALING
October 8th, 2022 AT 6pm
Music Box Village
4557 N. Rampart St.
Liberation Vibrations leads audiences through an immersive experience using dance, drum, chant, song, visual and sound installation, and community ritual to acknowledge and honor ancestral connections, and open channels for truth-telling aimed at repairing hearts and minds.
Conceived by Monique Moss, Artistic Director and Choreographer of Third Eye Theatre Interdisciplinary and Improvisational Performance Company, in collaboration with New Orleans Airlift, installation artist Jennifer Johnson (J. Renee), and featuring the unveiling of the Mbongi Spirit House, this humble offering is undertaken using the language Culminating Cultural Performance Practice in order to distinguish it as a developing, lived community practice in which the audience participates in the work. The audience is invited to engage through all of their senses, thereby opening themselves to being a present part of a collective healing process.
Featuring Papa Titos Sompa, Master Artist from the Kingdom of Kongo, and beloved local musicians and dancers, Liberation Vibrations seeks to reach across time, employing cathartic performance modalities to affect the state of the Spirit of participants who are willing to embrace harmony produced from honesty.
In partnership with NolaXNola