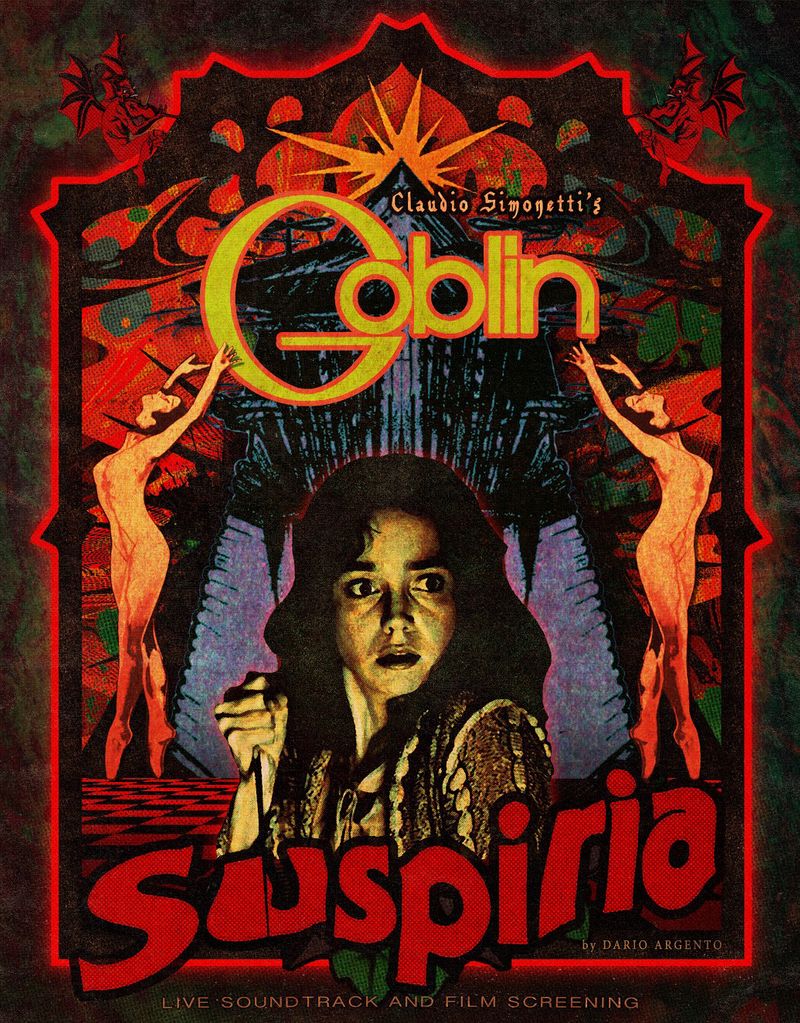 Claudio Simonetti's Goblin perform "Suspiria"
August 1, 2019 12am - September 24, 2019 11:30pm
New Orleans Airlift opens their 4th year in their permanent home and their 2019 Fall season with Italian progressive rock band Claudio Simonetti's Goblin in their first-ever New Orleans performance, where they will accompany a full screening of director Dario Argento's 1977 release, Suspiria. This film score masterwork, originally written in just 10 days, gave birth to the defining and evocative horror-synth soundtracks made popular by John Carpenter (Halloween), and carried forth in new shows like the Netflix series Stranger Things. This outdoor performance in the Music Box Village will feature multiple screens and original instruments used in the creation of the soundtrack, in addition to an extended performance by the band. Local space-synth artist Benni (Benny Divine) will open.
ABOUT THE FILM
Co-written by Argento and Daria Nicolodi, partially based on Thomas De Quincey's 1845 essay Suspiria de Profundis (Sighs from the Depths) and co-produced by Claudio and Salvatore Argento. The film stars Jessica Harper as an American ballet student who transfers to a prestigious dance academy in Germany but realizes, after a series of brutal murders, that the academy is a front for a supernatural conspiracy. It also features Stefania Casini, Flavio Bucci, Miguel Bosé, Alida Valli, Udo Kier and Joan Bennett, in her final film role.
Suspiria was nominated for two Saturn Awards: Best Supporting Actress for Bennett in 1978, and Best DVD Classic Film Release, in 2002. It has become a cult classic, and is recognised as an influential film in the horror genre. It served as the inspiration for a 2018 film of the same title, directed by Luca Guadagnino.
ABOUT NEW ORLEANS AIRLIFT & THE MUSIC BOX VILLAGE
New Orleans Airlift is an artist-driven organization established in 2009, whose mission is to collaborate to inspire wonder, connect communities, and foster opportunities through the creation of experimental public artworks. Its flagship project, the Music Box Village, is a permanent installation of "musical architecture" that serves as a one-of-a-kind site for collaboration between New Orleans artists and artists across the world. More than a venue, the Music Box Village is an engine of possibilities, and a mechanism for growth as performers stretch their capabilities through creative residency.
Claudio Simonetti's GOBLIN -
LIVE Soundtrack Performance of Dario Argento's 1977 Classic "Suspiria"
Event Date: Tuesday, September 24th, 2019 - One Show Only
Doors: 6:00pm
Event Hours: 6:00PM-10:00PM
General Admission $25 / Door $30
Advance Tickets and More Info: musicboxvillage.com