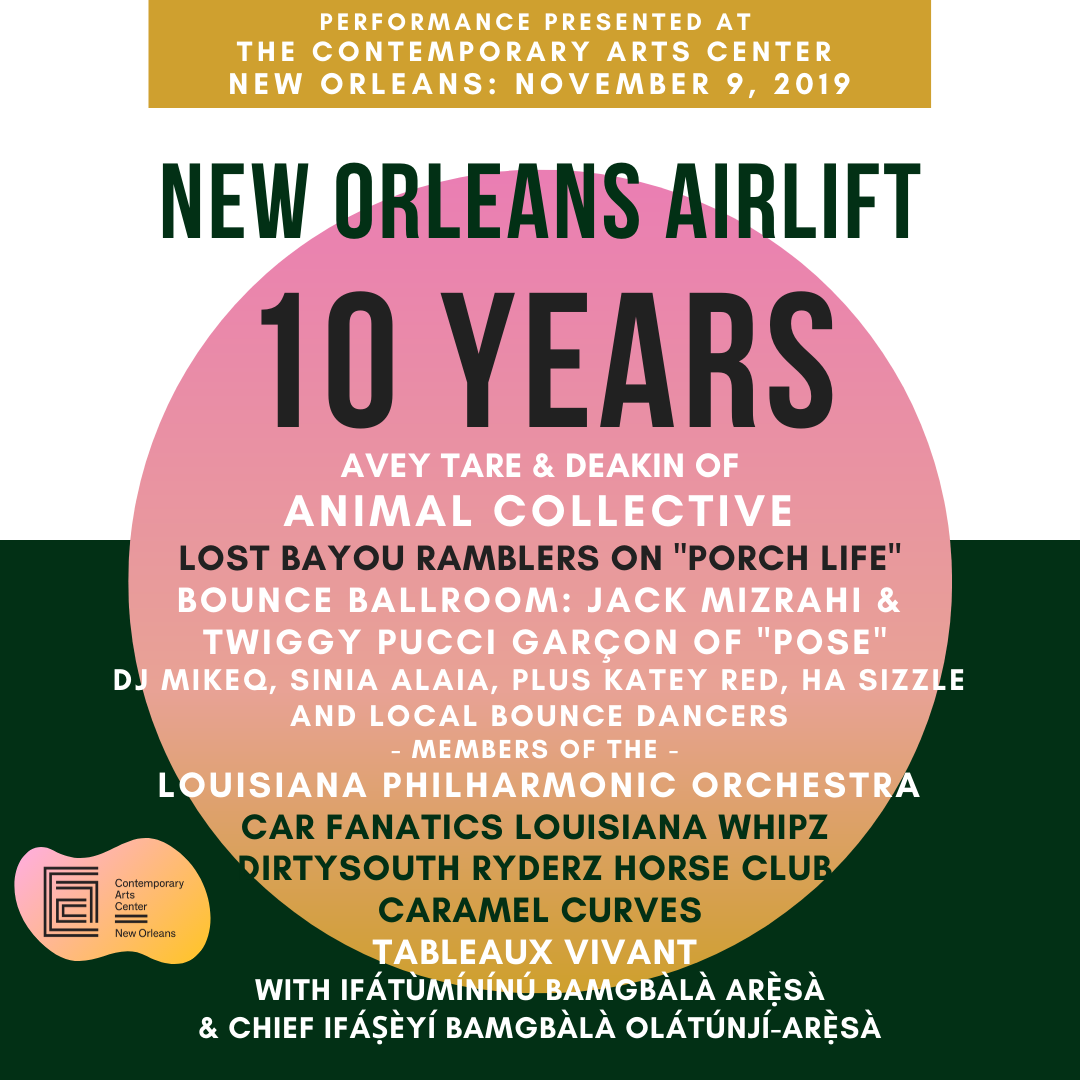 Airlift 10th Anniversary at the New Orleans Contemporary Arts Center
7:00PM VIP Cocktail Hour with LPO Performance
8:00PM General Admission Doors
Join us November 9th at the New Orleans Contemporary Arts Center for an evening of performances celebrating 10 years of Airlift creations and collaborations.
Alumni artists who have generously shared their time and creativity with New Orleans Airlift and our city are returning to revisit old friends and create new work on a grand scale.
Avey Tare and Deakin, of experimental pop band Animal Collective, return to screen an exclusive excerpt from their 2018 performance in the Music Box Village, and to perform on Airlift's traveling musical architecture installation Porch Life, back to back with Grammy winners Lost Bayou Ramblers.
2014's Bounce Meets Vogue Ball enters its second round with new music by Drake collaborator Ha Sizzle and "Pose" TV show creators Jack Mizrahi along with special performances by Vogue and Bounce powerhouses (and fellow Pose creator) Twiggy Pucci Garçon , DJ MikeQ and Sinia Alaia plus Katey Red and more.
Car fanatics the Louisiana Whipz, the DirtySouth Ryderz Horse Riding Club, Caramel Curves motorcycle club, plus Chief Ifáṣèyí Bamgbàlà and other members of New Orleans public ceremonial culture will show out on feet, wheels and hoofs to celebrate the multiple projects they've created with Airlift honoring the pageantry of New Orleans' truly unique street scene in an outdoor/indoor Tableaux Vivant, reminiscent of Rally Under the Bridge and Public Practice, directed by Ifátùmínínú Bamgbàlà Arẹ̀sà and Airlift co-founder Delaney Martin.
A performance and installation recalling 2017's New Water Music will be featured in the atrium of the CAC, that will include music from the original composition by Yotam Haber performed by Louisiana Philharmonic Orchestra members. New Water Music was an epic performance on and around Lake Pontchartrain to address coastal destruction, created in collaboration with Haber, the LPO, shrimp and oyster boat captains, community partners and Black Magic Drumline among numerous other community musicians.